This is an archived article and the information in the article may be outdated. Please look at the time stamp on the story to see when it was last updated.
SACRAMENTO -- As protesters continue to voice outrage over the country's incoming president, Donald Trump is busy selecting key members of his cabinet.
"One thing you know about Donald Trump, nobody knows what he's gonna do," said FOX40 Political Analyst Gary Dietrich.
Dietrich says expect the unexpected when it comes to Trump's decisions.
After 30-40 mins blocking traffic rallying in the middle of the Tower Bridge, anti-Trump crowds head... @FOX40 pic.twitter.com/RWlHqqpw0p

— Sonseeahray Tonsall (@tonsalltv) November 19, 2016
Some of the president-elect's first choices are already becoming clear.
From big name politicians, like Mitt Romney, who's being considered for secretary of state, to Sacramento's First Lady Michelle Rhee.
"I think it's absolutely smart for him to be looking at a guy like Romney who's an establishment republican," Dietrich said.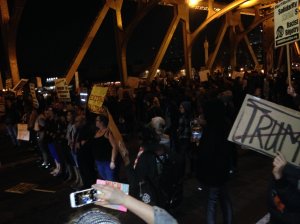 The Democrat will meet with Trump Saturday to discuss the possibility of becoming Secretary of Education.
"She's for common core, the federal standards for education, he hasn't been for that. What does that also tell us? He's not looking for ideological purity on every single issue with his cabinet appointees," Dietrich said.
Rhee, who's married to outgoing Mayor Kevin Johnson, is a Charter School advocate who was previously Chancellor of DC Public Schools.
She currently serves as chair of St. Hope Public Schools in Sacramento.
"What you're beginning to see is Trump putting his inner circle sort of 31 flavors, something everyone can like, something some people aren't gonna like," said Dietrich.
Dietrich says, what we're seeing is Trump's attempt to appoint politicians who appeal to his base and help gain support from opponents in his party.
Also to those skeptical of the president elect as he prepares to enter the White House.