This is an archived article and the information in the article may be outdated. Please look at the time stamp on the story to see when it was last updated.
PLACER COUNTY — The California Highway Patrol says a tanker truck exploded Wednesday following a head-on crash along Highway 20 near Cisco Grove.
The crash was first reported shortly after 10 a.m.
The collision occurred when a tow truck going north on Highway 20 veered into the southbound lane, crashing into the tanker truck.
It is not known at this time what caused the the tow truck driver swerve.
Both drivers have been confirmed dead.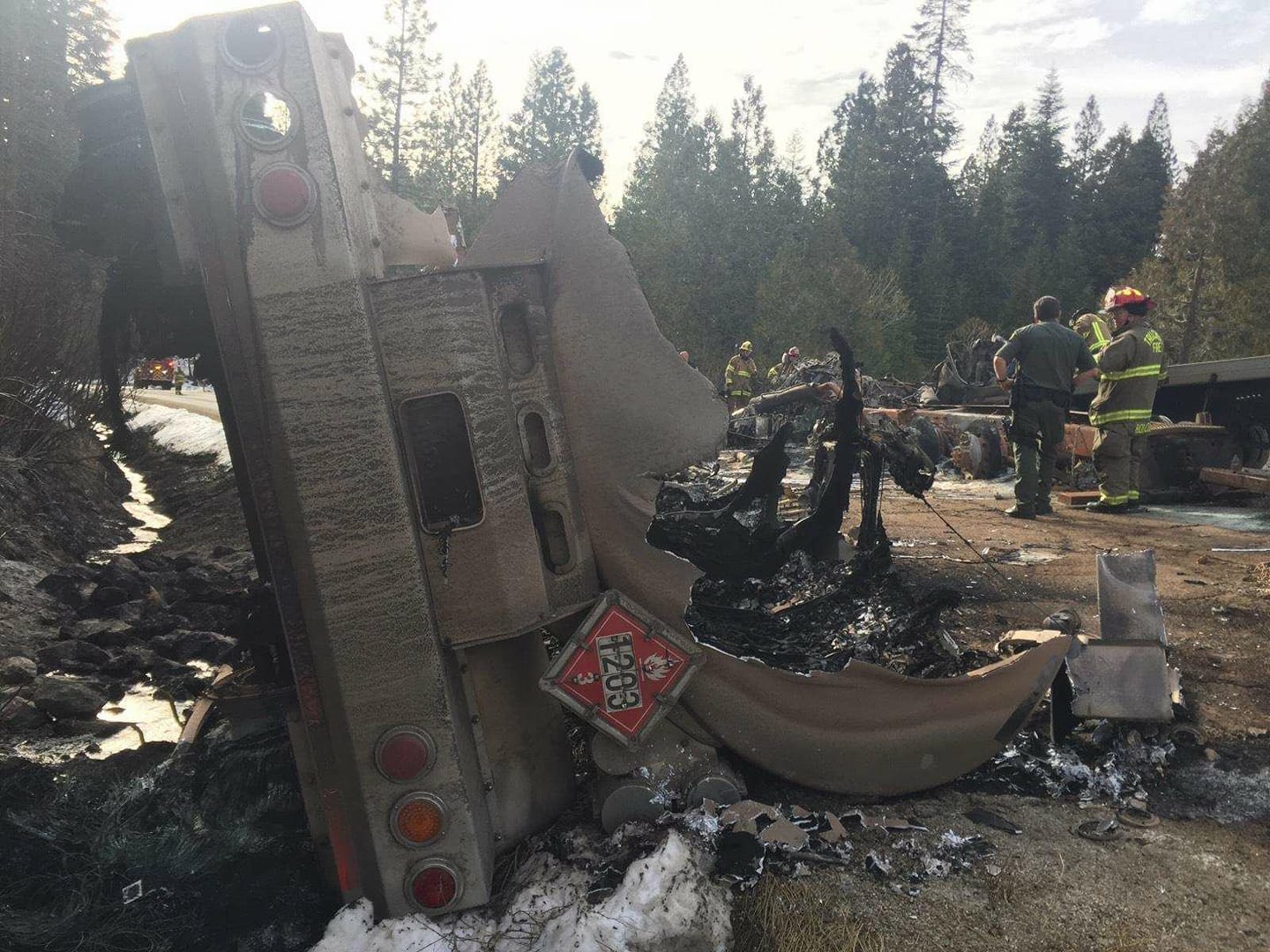 The tow truck belongs to Kilroy Towing out of Grass Valley and the tanker belongs to Williams Tank Lines in Stockton.
Authorities say 12,000-15,000 gallons of fuel has leaked.
Crews were on the scene attempting to gain control of the flames with foam.
Tankers can carry more than one type of cargo in separate compartments. When firefighters determined that it was gasoline they decided to let it burn off rather than spread it on the ground with toxic firefighting chemicals.
"Burning up the product just like it would in a wood fireplace, anything else. The more product that burns it allows  all that contaminate to be disseminated into the air instead of in the ground," said CalFire Battalion Chief Bryan Ferrell.
Placer County environmental health specialists are on site working to determine any potential environmental  impacts. Some of the gasoline escaped and hazmat crews were on hand to dam up as much gasoline as they could to keep it away from a drainage ditch and nearby Bear Creek.
Creek cleanup at the Highway 20 wreck scene involves water flushing under observation by an OSPR environmental scientist. A vacuum truck is then positioned not far downstream to remove hazardous materials. No oiled wildlife have been observed. pic.twitter.com/FYwo1G7cDe

— CDFW Spill Prevention & Response (@CalSpillWatch) February 1, 2018
Now that the fire has burned out, Caltrans will need to determine what damage there was to the roadway. Fish and Wildlife will also need to see what environmental actions need to be taken. The investigation into the crash has to take place by the CHP.
Highway 20 west of Interstate 80 reopened Thursday night, according to Caltrans.
#trafficalert Hwy 20 open in both directions. Big thanks to Hansen Bros. Enterprises for working all day to repave roadway damaged by Jan. 31 fuel truck fire. One way traffic controls at site in place Friday for env. cleanup.

— Caltrans District 3 (@CaltransDist3) February 2, 2018