This is an archived article and the information in the article may be outdated. Please look at the time stamp on the story to see when it was last updated.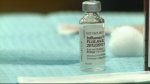 SACRAMENTO-
The flu has killed two more people in Sacramento County this week, health officials say.
The victims, both men, were relatively young at 37 and 56 years old.
A third, a woman in her early 60's, was killed last week.
The cases are changing the way we think about who should get a flu shot.
Regina Lawson made sure she got a flu shot this year but her grandson, Jordan, didn't.
"And he did get some flu symptoms, like, about a week and a half ago. He was at the ER for severe vomiting," Lawson said.
Public health officials are urging everyone to get a flu shot, even though the flu season is well underway.
"It's definitely not too late to get your vaccination now," Kate McAuley, of Sacramento County Public Health, said Tuesday. "You're not only protecting yourself but you're protecting your whole family."
Some clinics that offer flu shots are reducing their prices, others are seeing long lines and some are seeing people who think they have the flu.
"They think they have a flu because they don't realize a flu is very distinct, and it's a very sudden onset. We're talking, like, within hours," Dr. Sheryl Haggerty said. She is with U.S. Health Works. "All of a sudden [patients say], 'Oh, I have a sore throat," and then you're down for the count with muscle aches and great fatigue."
Lawson is worried about a friend who's experiencing those very symptoms.
"I asked her has she took the flu shot and she said no. I said, 'You need to go in to a doctor. It's very important because the flu, right now ,is very serious thing that's going on,'" Lawson said.
To find a place to get a flu shot near you, visit http://flushot.healthmap.org/#