This is an archived article and the information in the article may be outdated. Please look at the time stamp on the story to see when it was last updated.
SACRAMENTO-
A patient is being treated for possible Ebola symptoms in Sacramento County. UC Davis Medical Center confirms they have a patient with a suspected case of Ebola.
UPDATE: A second patient is being tested for Ebola
They said in a statement the patient had "symptoms consistent with Ebola infection". A spokesperson also told FOX40 in order for their Ebola response team to be activated, the patient must have traveled to a country where the disease is active.
The patient is said to be in good condition.
UPDATE: The first patient has tested negative for Ebola
According to UC Davis Medical Center, the hospital remains open and is operating as normal as their team treats the patient with Ebola symptoms. The UC Davis Medical Center was one of five facilities in California identified to treat possible cases of ebola.
It will take a few days for confirmation whether or not this patient does indeed have Ebola. A medical center spokesperson said they can do an Ebola test faster than three days, but there is a chance of a false negative result.
The patient originally went to Mercy General Hospital along J Street in East Sac. Dignity Health, who runs Mercy General released the following statement:
"In coordination with the public health department and CDC, Dignity Health Mercy General Hospital has transferred a patient to UC Davis Medical Center, which is specifically equipped to care for patients suspected of having or diagnosed with Ebola as part of the public health department's preparedness plan."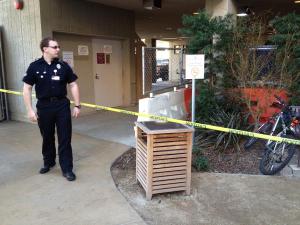 FOX40 saw yellow 'caution' tape and a hospital security guard standing outside the emergency area at Mercy General. Ambulances are being  routed to other hospitals, we are told.
It appears Mercy General is still functioning like normal. The other entrances to Mercy General are open and they have said they are doing a "deep cleaning" of their emergency room area. They plan to reopen the emergency area later in the day.
Symptoms of Ebola include fever, fatigue, muscle pain, headache and sore throat. The World Health Organization has more information on their website.
In October, two people in Sacramento County were monitored for possible Ebola exposure. They had traveled to West Africa and were considered "low risk". They did not end up having the disease.