This is an archived article and the information in the article may be outdated. Please look at the time stamp on the story to see when it was last updated.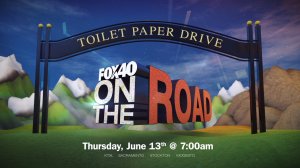 SACRAMENTO–
Volunteers of America spends an estimated $20,000 a year on toilet paper alone. Amber Murry with United Way says, "It's something we all need and we all use.  The cost can add up."
That's $20,000 literally flushed down the toilet.
Every night, 1,500 people sleep and eat at Sacramento area Volunteers of America shelters. People like, the Taylor family: Sam, Arqwesha and their four boys.  It wasn't too long ago, they called the shelter home.
Thanks to The United Way and it's Toilet Paper Drive, Volunteers of America can keep helping families like the Taylor's get off the streets and back on their feet.
"With the $20,000, Volunteers of America can feed every man, woman and child at their shelters for 5 months,"  says Murry.
Join FOX40 as we host Thursday's Toilet Paper Drive from Cal Expo. We'll start collecting toilet paper at 7 a.m. and will go until 7 p.m.
Viewers 18 and older, who live in the area, can draw for a chance to win some of the 58 prizes – from Subway gift cards to unlimited rides at Santa Cruz Beach Boardwalk.
Questions? Head over to http://www.yourlocalunitedway.org/tp-drive for more information.