This is an archived article and the information in the article may be outdated. Please look at the time stamp on the story to see when it was last updated.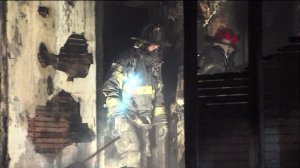 SACRAMENTO-
For the third time in the past year, firefighters have responded to the corner of Roosevelt Avenue and Stockton Boulevard Friday in Sacramento.
A home there has been vacant for some time, which is why investigators say the fire is suspicious.
No one was inside when firefighters responded.
Two weeks ago, on Dec. 5, a fire sparked at the home next door. One person was killed in that fire.
The exact cause of Friday's fire, but officials believe squatters may be behind it.