This is an archived article and the information in the article may be outdated. Please look at the time stamp on the story to see when it was last updated.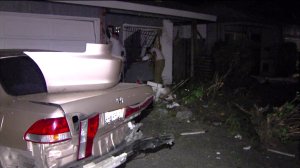 STOCKTON –
A drunk driver hit a parked car and a car parked in the driveway of a Stockton home, sending it flying into the garage.
The owner of the home was not there during the time of the accident.
The house is on North El Dorado Street, just north of Ponce De Leon Avenue.
The two cars were towed away. The driver was unhurt and taken into custody.