This is an archived article and the information in the article may be outdated. Please look at the time stamp on the story to see when it was last updated.
YUBA CITY-
The California Highway Patrol said two women were attacked by another in a case of road rage along Interstate 80 near Auburn.
Saturday the CHP arrested the suspect, Dierdre Orozco, who originally told the women she was a sheriff's deputy.
FOX40 has learn Orozco is actually a bail bonds agent.
"This isn't just a normal road rage type of person who tail gates you for a little bit and then moves on. She was definitely coming after us specifically and wanting to harm us somehow," Vanessa Gladieux, who was driving the car Orozco attack, told FOX40.
Cellphone video shot by Gladieux's passenger, Delanie Strykul, shows the erratic driving of Orozco.
UPDATE: Alleged Road Rage Suspect Arrested for Terrorizing Another Driver Days Before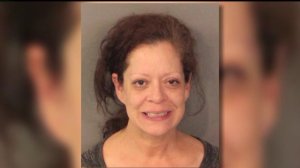 "Before anything had even happened I could see in my rearview mirror just her going in between both lanes really fast just driving recklessly," Gladieux told FOX40.
Soon after that, Orozco stopped in the middle of traffic on I-80, claiming to be a sheriff deputy, according to Gladieux.
But Gladieux said she knew Orozco was no deputy.
"Her identification badge says 'Visiting Angels' and then it has her name, and we tried to Google it and Visiting Angels is like a senior home care place," Gladieux said.
That's when Strykul called 9-1-1.
Soon after Gladieux said Orozco hit her car with her pickup truck, forcing her to the side of the freeway.
Fortunately the CHP office in Gold Run was the next exit along I-80, and both Gladieux and Strykul were able to get to an officer for help.
But that didn't stop Orozco from pursuing them.
"And she even got out of the car then ran towards our car and the CHP officer had to yell at her mam stay in your car stay in your car," Gladieux told FOX40.
Orozco has now been charged with reckless driving and assault with a deadly weapon, which in this case the CHP said was Orozco's truck.
Police told Gladieux Saturday that Orozco had been released from jail that morning on a different hit and run charge.
"Who knows what she would have done to attack us, but she definitely wanted to make her point," Gladieux said.
Gladieux said after being cut off several times, Strykul did give Orozco the finger, but other than that the two women did nothing to agitate her.
Gladieux said several times she tried to let Orozco just pass them, but each time she stopped in front of her car.