This is an archived article and the information in the article may be outdated. Please look at the time stamp on the story to see when it was last updated.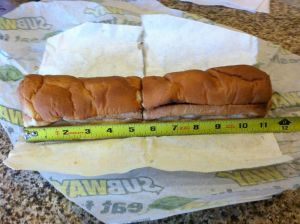 SACRAMENTO-
A lawsuit has been filed in federal court in Sacramento claiming Subway comes up short on their promoted sandwiches. A West Sacramento man says his "footlong" sandwich, was not.
Richard Springer frequents the Subway Restaurant in Burlingame, and snapped a photo of his short sandwich on a visit this month.
His lawsuit claims the company that owns Subway violated California's unfair competition law, committed false advertising, fraud, negligent misrepresentation among other claims.
"In truth, Defendant's "Footlong" subs are not one foot, or 12 inches, in length," reads the lawsuit. Later it states "Had Plaintiff known the true size of the Subway "Footlong" subs, Plaintiff would not have purchased and/or paid as much for it."
Springer's suit is separate from a nationwide class action lawsuit filed this week in Chicago. Springer's attorney says they filed a different lawsuit because California has different laws protecting consumers.
Subway Restaurants and their parent company have faced increase criticism this month after a man in Australia took a photo of his "footlong" sandwich next to a ruler and posted it on Facebook.
The lawsuit filed in Chicago is seeking $5 million. Springer's lawsuit does not ask for a specified amount, just for restitution as decided by the court.