This is an archived article and the information in the article may be outdated. Please look at the time stamp on the story to see when it was last updated.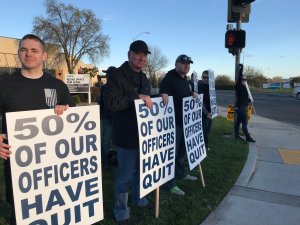 WEST SACRAMENTO -- Usually, you'll find officers with West Sacramento Police Department helping the community but Saturday night, those roles were reversed.
Officers and volunteers took to town center plaza asking for the community to get involved because the police officers association says the department is struggling.
"The climate right now, with law enforcement, it's hard enough to find people that want to get into this profession and it's super hard to find people when you're the lowest paid agency in the area," West Sacramento Police Officers Association Vice President Nick Barreiro told FOX40.
The union says because of the huge pay disparity, 50 percent of veteran officers has left the department for better paying jobs,
"Everyone that has left wanted to work in West Sacramento," Barreiro said. "If you can walk across the bridge and make 20 percent more, that makes a big difference for somebody's family."
Barreiro says the inability to replace them with recruits has gotten to a point where safety in the city is affected
"We can't do as much of that proactive policing, combatting gangs, combatting drugs, combatting prostitution, all those sorts of things that take a proactive approach, when we are just reacting to 911 calls," he said.
The police officers association say they need a 16.8 percent raise, which they say would just put them around average for this area. They say the city has countered with a one percent raise.
Mayor Christopher Cabaldon's office sent FOX40 a statement:
"It is the longstanding practice of the City to not conduct collective bargaining negotiations in the news media. The fact that one party has published an open letter does not change the status of ongoing negotiations. We value the contributions of the Police Department and look forward to a timely resolution."
The police officers association says they are only reaching out to media and the public because they haven't received a raise in 10 years and worked behind closed doors long enough for a solution.
"We wouldn't be bringing this to the public if it wasn't critical," Barreiro said. "The community deserves to know that the city is putting them at risk. We aren't asking for much, we are asking for the going rate for a police officer in this area. City Hall thinks they can have a discount police department and it doesn't work."