This is an archived article and the information in the article may be outdated. Please look at the time stamp on the story to see when it was last updated.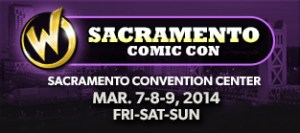 SACRAMENTO-
Comic and pop culture convention organizer Wizard World has added Sacramento to its summer schedule.
The first-ever Wizard World Sacramento Comic-Con will be held at the Sacramento Convention Center March 7 through 9.
One of the featured guests for the 2014 convention tour is Norman Reedus, who currently stars on AMC's "The Walking Dead" and Daryl Dixon.
Comic and pop culture conventions have exploded in popularity in the last several years, with the rising box office success of superhero movies and the San Diego Comic-Con selling out in less than two hours for 2013.
Wizard World hosts conventions across the country, in places like Portland, Nashville, Philadelphia and Chicago.
Guests from last year's included "Firefly" stars Ron Glass and Summer Glau, actor William Shatner, comic book icon Stan Lee, several "The Walking Dead" cast members and Incredible Hulk actor Lou Ferrigno.
Sacramento also plays host to the SacAnime Convention and the nearby Stockton-Con has had a very successful first two years.
For more information about the Sacramento Comic-Con, click here.