This is an archived article and the information in the article may be outdated. Please look at the time stamp on the story to see when it was last updated.
ROSEMONT — Cold case investigators said Robin Brooks was raped and stabbed to death inside her apartment in the Rosemont area of Sacramento County more than 37 years ago.
Detectives have a full DNA profile of the suspected killer from his blood, but the case is still unsolved after all these years. But now, new technology is giving detectives a different way to look at the DNA and a glimpse at what the killer could possibly look like.
It's called DNA phenotyping. It sounds like science fiction, but this forensic method uses an unknown suspect's DNA to create a composite sketch of the mystery person's physical characteristics.
"It's not intended to be a photo ID," said Dr. Ellen Greytak over the phone to FOX40. "It's a genetic witness in the absence of an eye witness."
Doctor Greytak works for Parabon NanoLabs, a Reston, Virginia-based biotech company that offers the tool called Snapshot. The Sacramento County Sheriff's Department has contracted the company to come up with two profiles of the suspected killer in Brooks' unsolved murder case.
"We have DNA, we have the person who did this," said retired Sacramento County sheriff's Detective Micki Links. "There's no doubt about who it is. We just need their name."
The DNA profile of the suspected killer in Brooks' case was put into all the criminal databases in 2004, but a match has never been made.
Links said she believes these two profiles will aid in the investigation by giving fading memories a look back at what the killer's face may have looked like when he was 25. Another profile has the suspect aged to 56.
Links also shared new details on Robin's whereabouts before her death.
For decades, investigators thought Brooks finished her shift at Donut Time off Keifer Boulevard and walked straight home to her apartment on Tallyho Drive. That apartment has been renamed the Garden Club Apartments.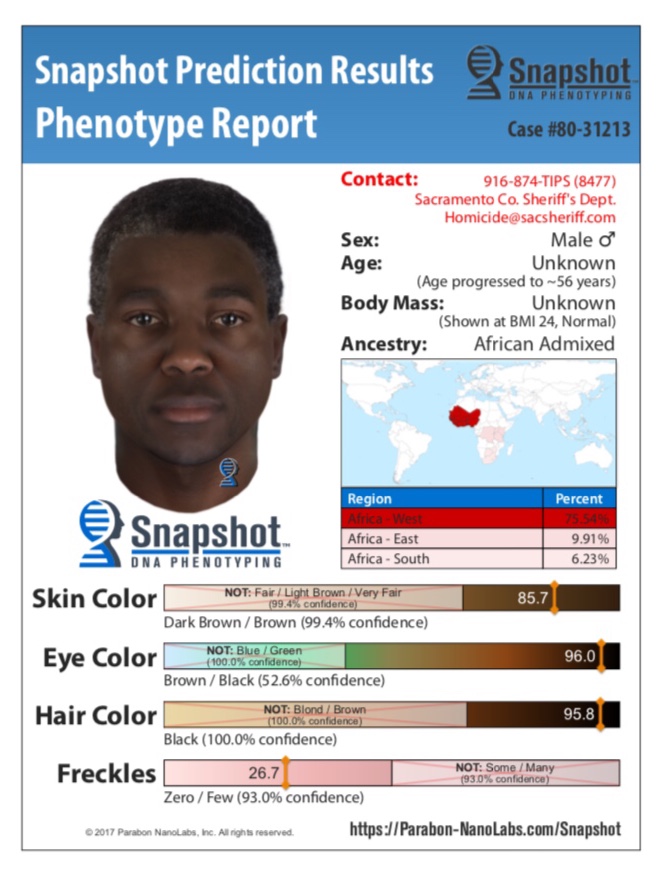 But detectives said an informant, who has been cleared as a suspect, has come forward with a different timeline. He told them he saw Brooks at a house party somewhere off Roseport Way. The unnamed informant also told investigators Brooks went to the party after work and then went home.
The informant added that the party was made up of mostly teens, between 15 and 19 years old, many from Hiram Johnson High School and the nearby Lincoln Village.
"You're not going to get away with this," said Links. "I'm going to do whatever I can to find you, and make you pay for what you did."
Robin's family is also still fighting for answers. Maria Arrick, Robin's older sister, is offering up to a $10,000 reward for information that leads to the arrest of Brooks' killer.
If you have any information regarding this case, please contact the Sacramento County Sheriff's Department main homicide line at (916) 874-5057. Or you can go to a special website set up for the victims of unsolved homicides in Sacramento County.