This is an archived article and the information in the article may be outdated. Please look at the time stamp on the story to see when it was last updated.
WINTERS -- Eddy the Cat was a staple at Steady Eddy's Coffee House in Winters.
As the coffee house cat and mascot, Eddy was loved by everyone, but now the community that loved him is in mourning.
"He would greet customers, he was the cat that would rub up on your leg, greet you to say hi," said Carla Wroten, the owner of Steady Eddy's. "He kind of became the constant. He set the tone for the coffee shop. We`ve always known Eddy was an extra special cat and he was kind of a celebrity. He had a celebrity status to him."
After the restaurant closed Tuesday night, a dog attacked Eddy on the porch and killed him.
"It was unfortunate because it was on our porch, it was Eddy`s territory, he'd been living here for 14 years," said Wroten. "He`s seen and met countless animals [and] greeted them with kindness, so this was a very different experience than we ever thought we could have because it`s never been close to that."
Photos of Eddy line the walls of the coffee house on East Main Street in Winters. Eddy was more than the average house cat -- Wroten said Eddy was the town's cat.
Wroten said he lived at her restaurant for 14 years – bringing joy to her and nearly every customer who stopped by. Customer and employees are heartbroken over Eddy's death.
"When we found out, it was a shock to not only us but everybody because it was so far removed from what we ever thought could happen," said Wroten.
The porch where Eddy died is now covered in flowers and trinkets.
The coffee house is now asking the community to be mindful when taking animals in public places. They hope their loss sends a message to fellow animal owners.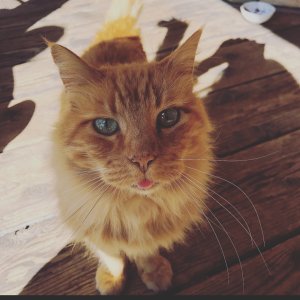 "I want to make sure this never ever happens again," said Wroten. "Not only on our public porch but at other restaurants that allow dogs and animals to rest while they`re eating."
For now, the staff at Steady Eddy's hopes the Winters community holds on to Eddy's memory.
"I'll always remember this – that sometimes I think we get really busy in our lives and sometimes it`s the little things in life that don`t cost a lot of money, like a cat or a dog, that can really make a community or coffee shop really special," said Wroten.
As for the name of the coffee house, Steady Eddy's namesake will remain, in honor of the four-legged friend.
Yolo County Animal Services said it is investigating the incident.