This is an archived article and the information in the article may be outdated. Please look at the time stamp on the story to see when it was last updated.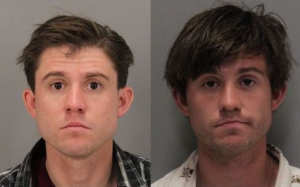 MOUNTAIN VIEW-
On Sunday evening, the Mountain View Police Department (MVPD) went to North Shoreline Blvd just off of Highway 101 to help California Highway Patrol (CHP) with a freeway accident. When they arrived they learned that it was not an ordinary accident, and was actually the result of a kidnapping case.
Earlier that day, a man, Kenneth Middlebrook, 23, walked up a woman's driveway in Aviso and convinced her to drive both him and his car to Mountain View, about a 10 to 15 minute drive away. Once they reached the city, Middlebrook became very nervous and would not let the woman leave him. She told Middlebrook she would drive him anywhere he liked, and then crashed his car into another car on the freeway in order to escape.
When the two cars pulled to the side of the freeway, the victim got out of Middlebrook's car, told the other driver what happened, and Middlebrook drove away before police could arrive. CHP and MVPD found Middlebrook's car in a nearby parking lot but Middlebrook was nowhere to be found.
The following day, a second woman called MVPD to report that a man, later identified as Middlebrook, entered her home Sunday night and forced her into her car. Middlebrook drove throughout the East and North Bay areas for hours not allowing the victim to leave. Eventually MIddlebrook stopped in Ione and told the victim to wait for him while he stepped out of the car. Once he stepped out, she drove away. The Ione Police Department located Middlebrook and held him until MVPD detectives arrived to take him into their custody.
Police believe there is a chance Middlebrook had other victims, so if you believe you have been a victim of a crime involving Kenneth Middlebrook, please contact the Mountain View Police Department at (650) 903-6344 and reference case number 14-2233.
Greg Cotta filed this report.