This is an archived article and the information in the article may be outdated. Please look at the time stamp on the story to see when it was last updated.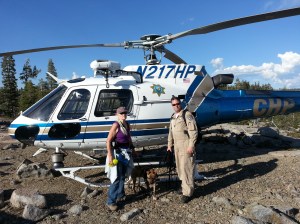 PLACER COUNTY—
A grandmother and her two grandchildren out on a hike had to be rescued by a CHP helicopter Tuesday afternoon.
Dorothy Klishevich was out hiking in Lake Valley, about 20 miles west of Truckee, with her two grandchildren – aged 12 and 13 – when the boys got ahead of her. They soon got separated, and as the hike went on, Klishevich realized that she was lost.
Authorities say that Klishevich then called 911, with sheriff's sending in a California Highway Patrol helicopter to help.
The chopper got to the rural, rugged area within 25 minutes and used its loudspeaker to tell Klishevich to call 911 once more. She was able to hear the broadcast, and she called 911 again. Soon, the chopper found her near a small lake and landed on a granite slab nearby.
Both Klishevich and a 7-month-old puppy she had also taken on the hike were fine, and the helicopter crew airlifted them back.
CHP says that Klishevich's grandchildren were able to find their way back to where Klishevich had parked her pickup truck earlier in the day. When deputies found the boys, they were apparently playing a game to pass the time.