This is an archived article and the information in the article may be outdated. Please look at the time stamp on the story to see when it was last updated.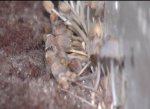 STOCKTON-
Martha Mason and her daughter moved out of their mold infested apartment Wednesday night.
Her landlord, Donald Joe, told FOX40 she is staying with a relative.
Joe who owns the Stockton apartment said he returned Masons deposit to her when she moved.
Mason and her daughter had been living with severe mold that grew under a drenched carpet caused by a bathroom leak.
Mason said her landlord had someone fix the leak but they left the job undone.
Mason said she tried calling her landlord to complain about the mold but she says he did not return her calls.
The landlord said he knew nothing about the mold until FOX40 came to investigate.
San Joaquin Fair Housing was working with Mason to help her find a new place, but she is not able to be reached at this time.