This is an archived article and the information in the article may be outdated. Please look at the time stamp on the story to see when it was last updated.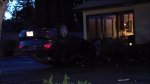 SACRAMENTO-
A very lucky close call for two women following a crash in Arden Park on Wednesday morning.
Just before sunrise, the driver of a Mazda heading north on Eastern Avenue fell asleep at the wheel, shearing a utility pole off at the base. The car flipped on to it's roof and skidded to a stop in the front yard of Pat Paschal, just inches from driving through her front window.
"I just heard this big thump and I thought that the paper people had hit my front door, but then I thought, 'No, that sounds different,'" Paschal told FOX40. "I opened my front blind and there was this car that was upside down and almost in my house."
The house was miraculously unscathed, as was the driver who, despite the dramatic crash, suffered only a sore hip and cut finger.