This is an archived article and the information in the article may be outdated. Please look at the time stamp on the story to see when it was last updated.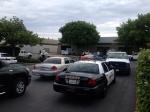 RANCHO CORDOVA-
A man wanted for shooting his coworker is now under arrest, after an hours-long manhunt.
Around 7 a.m. Thursday, Sacramento County Sheriff's deputies were called to a land care business in Rancho Cordova.
Witnesses say 52-year-old Cristobal Chavez shot a coworker after the two got into a verbal fight.
READ: Deputies Search for Shooter After Workplace Argument Escalates
Chavez drove away in a red Honda before officers arrived. He was arrested Thursday afternoon on the north side of Sacramento and is in the Sacramento County Jail.
The victim, only identified as a 44-year-old man, is said to have life-threatening injuries.