This is an archived article and the information in the article may be outdated. Please look at the time stamp on the story to see when it was last updated.
WOODLAND-
Samantha Green, 23, made her first appearance in court on Wednesday afternoon.
Green was arrested Saturday and charged with murder in the death of her 20-day-old baby boy, Justice Rees.
However, after a careful four hour review of evidence, the Yolo County District Attorney's Office filed a criminal complaint Wednesday, lessening the charges. In the documents, prosecutors charge Samantha Green with involuntary manslaughter and child endangerment. The complaint states that Green killed her baby "without malice, in the commission of a lawful act which might produce death, in an unlawful matter…"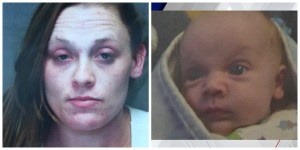 Green pleaded not guilty. Her bail was set at $250,000.
She and her son were first reported missing Monday, Feb. 23 along the Sacramento River at Ridge Cut Slough near Knights Landing. Investigators found baby Justice dead at that location the next day.
Green was initially booked into jail for murder.
The coroner's autopsy revealed no obvious physical injuries or signs of abuse on Baby Justice. However, a spokesperson told FOX40 Thursday hypothermia or drowning are both possibilities.
Yolo County Sheriff Ed Prieto told the media Thursday that Green and her son were the only two people in the vehicle that traveled to the slough. He added that investigators have not connected anyone else to the crime scene.
Green is being held without bail. If she is convicted, the 23-year-old could face up to a year in jail with probation, or up to 12 years in state prison if found guilty on all charges.
The boy's father, Frank Rees, will also appear in court Wednesday afternoon on unrelated charges.