This is an archived article and the information in the article may be outdated. Please look at the time stamp on the story to see when it was last updated.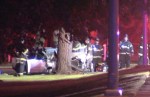 SACRAMENTO –
One person is dead after a car crashed into a tree and caught fire early Monday morning in Sacramento.
Three young adults were in the car when it crashed into a tree at 43rd Avenue and Riverside Boulevard around 2:30 a.m.
One person in the car was declared dead on the scene and two others in the accident were taken to a hospital.
Both were in serious condition.
Shortly after the crash, the car caught fire. Neighbors said they heard a loud bang. Sacramento police say the passengers were in their late 20's to early 30's.
They said they are unsure if alcohol was involved.