This is an archived article and the information in the article may be outdated. Please look at the time stamp on the story to see when it was last updated.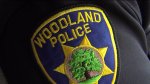 WOODLAND-
Woodland Police say a 19-year-old man hit and killed someone early Monday morning.
Officers responded to reports of a car hitting a man along Main Street near Walnut Street, in front of a Chase Bank branch. Medics tried to revive the man but he was pronounced dead a short time later, police say.
A license plate from the car was found nearby, and investigators searched the area for the car and driver.
A little over an hour later, the car was found parked on First Street near Laurel Street with the driver inside, police say.
Officers ordered 19-year-old Ivan Martinez out of the car but he refused. Police say they then went in and pulled Martinez out and arrested him.
Martinez is charged with gross vehicular manslaughter, fleeing the scene of a collision after committing vehicular manslaughter, driving under the influence, causing bodily injury and driving without a license.
He is being held on $250,000 bail.