This is an archived article and the information in the article may be outdated. Please look at the time stamp on the story to see when it was last updated.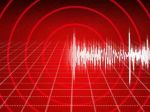 ISHINOMAKI, Japan-
A 7.3 magnitude earthquake happened early Saturday in the Pacific Ocean about 200 miles east of Japan's main island, the U.S. Geological Survey reported.
The Japanese Meteorological Agency issued a tsunami advisory for the coastal Fukushima prefecture, warning people to leave the coast but adding that "no tsunami damage is expected."
The Pacific Tsunami Warning Center said there is no widespread tsunami threat to the Pacific region.
Saturday's quake happened at about 2:10 a.m. local time, with an epicenter about 203 miles east-northeast of Tokyo, the USGS said. The quake hit at a depth of about 6 miles.
The Fukushima prefecture was where a 9.0 magnitude earthquake and subsequent tsunami damaged several nuclear reactors in March 2011.
The-CNN-Wire
™ & © 2013 Cable News Network, Inc., a Time Warner Company. All rights reserved.