This is an archived article and the information in the article may be outdated. Please look at the time stamp on the story to see when it was last updated.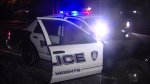 CITRUS HEIGHTS-
A man is facing charges for intending to sell steroids.
Citrus Heights Police were called to a home Wednesday morning for some kind of small disturbance.
There they found evidence suggesting the man had steroids and intended to sell them. Justin Gomez was arrested for possession of a controlled substance and other drug violations.