This is an archived article and the information in the article may be outdated. Please look at the time stamp on the story to see when it was last updated.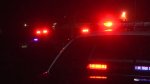 SONORA-
An elderly man was arrested for taking a motorized shopping cart for a little spin.
An officer in Sonora spotted 77-year-old John Mathews riding the Safeway shopping cart around 1 a.m. Wednesday.
Mathews said Safeway had given him the cart because he had trouble walking. However, he was unable to provide who exactly had given it to him.
Safeway told police they had no idea the cart, valued at about $1,000, was missing, and certainly did not give Mathews permission to take the cart.
Mathews was arrested and booked for possession of stolen property.