This is an archived article and the information in the article may be outdated. Please look at the time stamp on the story to see when it was last updated.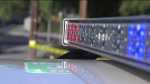 SACRAMENTO-
A man died early Wednesday afternoon after being struck by a light rail train in Sacramento.
Witnesses say the man tripped while crossing the tracks near Folsom Boulevard and Power Inn Road and could not get up. The train operator sounded the horn but was not able to stop in time.
The train was going about 20 miles per hour.
Investigators continue to look into the crash.