This is an archived article and the information in the article may be outdated. Please look at the time stamp on the story to see when it was last updated.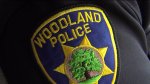 WOODLAND—
Police say that a man jumped off the Knights Landing Draw Bridge to try and escape from officers late Tuesday morning.
The incident started just before 11 a.m., when a Woodland Police officer on patrol near Tide Court and Pioneer Avenue saw a man he recognized as wanted felon Quentin Michael Ray Lee driving a 1992 Lexus.
Police say that Lee, 26, was driving a car that was reported stolen out of Davis on Monday. Officers tried to make Lee pull over along County Road 102 north of Woodland, but he wouldn't.
Lee continued to lead police on a chase until the Knights Landing Draw Bridge. There, Lee apparently got of the stolen car and jumped into the Sacramento River.
He wasn't hurt in the jump, and was soon taken into custody by authorities as he swam ashore.
Police say the Lexus has since been given back to its owner, while Lee is under arrest for evasion, vehicle theft and resisting arrest charges.