This is an archived article and the information in the article may be outdated. Please look at the time stamp on the story to see when it was last updated.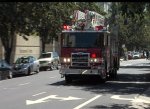 RANCHO CORDOVA–
There was no place for wrongdoing at 2013's version of  "Rafting Gone Wild". More than 100 sets of eyes – police, sheriff's deputies, park rangers – were on the lookout for anything that looked illegally out of place in Rancho Cordova.
Patrick Brosnan wasn't even trying to raft, he was just driving near the Sunrise access to the American River when he got stopped.
"He turned on his lights as soon as we came out of that street right there," said Brosnan, pointing to what he said was the site of a very confusing encounter.
He was stunned to find out the person who pulled him over in the middle of all the rafting traffic belonged to a Sacramento Metro firefighter.
"My first question to him was 'you're a firefighter, do you even have the authority to pull me over?'"
And he claims he could never get a clear answer.
"He says I drifted into his lane. I still think I was still in my lane and he was just trying to get around the car that was in front of him," Brosnan said.
Three Sacramento County Sheriff's deputies were called in by the firefighter, who left the traffic stop soon after they arrived.
Making a statement for the department Thursday, Metro Fire Captain Chris Quinn said Brosnan was driving "extremely dangerously."
The deputies gave Brosnan a field sobriety test, but he did not have alcohol in his system.
According to Brosnan, "They (deputies) said, 'We didn't see you do anything. We can't charge you based on what he said, even though he's a fireman'".
Captain Quinn said the fire department employee "has the right to question the driver and can write citations for moving violations."
The Sacramento County Sheriff's department runs the Rancho Cordova Police Department and has jurisdiction in the area where the traffic stop took place.
Based on a hypothetical scenario similar to Brosnan's experience, the sheriff's department's legal team says firefighters shouldn't be pulling cars over.
"Doesn't seem like a proper course of action or a lawful detention on the part of that individual," said department spokesman Sergeant Jason Ramos.
Ramos says that traffic stops can be deadly for officers trained for them, who are armed with weapons and body armor. Firefighters would be stepping into those dangerous scenarios without those kinds of protections.
On Friday, Sac Metro Fire District further clarified that an investigation into the incident found the fireman's actions to pull the driver over were justified.
Sam Cohen contributed to this report