This is an archived article and the information in the article may be outdated. Please look at the time stamp on the story to see when it was last updated.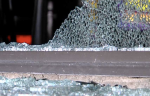 CITRUS HEIGHTS –
Citrus Heights Police said a man broke a window and attempted to rob a Subway restaurant at Madison Avenue and Sunrise Boulevard Monday morning.
The man wasn't able to steal anything because the restaurant doesn't keep any cash in the register overnight and the man did not attempt to open the safe under the counter.
The man went back to a woman who was waiting for him in a dark Honda, but was interrupted by a security guard.
The guard put his foot in the passenger seat of the car in an attempt to stop the man, but the man was able to push him aside.
The guard suffered injuries to his foot but is expected to be ok.
Police are still trying to find the suspects.