This is an archived article and the information in the article may be outdated. Please look at the time stamp on the story to see when it was last updated.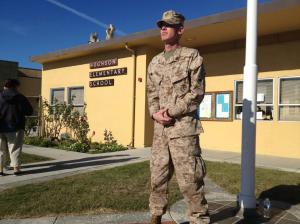 HUGHSON–
A Marine Corps staff sergeant is standing guard outside of Modesto-area elementary school.
Craig Pusley is outside of Hughson Elementary School in Hughson. He is a father, but his kid does not go to the school.
He plans on staying out in front of the school until the kids go on winter break. Once they come back, he plans to stay outside for 30 more days.
Pulsey is there in uniform to help calm the nerves of concerned kids and parents after the massacre in at Sandy Hook Elementary School in Newtown, CT.
Students came out during lunch time and thanked Pusley for being out there.
Carlos Rodriguez contributed to this report.