This is an archived article and the information in the article may be outdated. Please look at the time stamp on the story to see when it was last updated.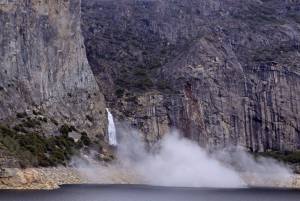 YOSEMITE—
A rockfall in the Hetch Hetchy area of Yosemite National Park dropped 16,000 tons of rock along a hiking trail.
According to Yosemite National Park, the rockfall happened in the middle of the afternoon on March 31st.
About 16,000 tons of rock fell 500 feet before sliding off the base of a cliff and tumbling onto the ground below.
The rocks broke apart into fresh boulders that crushed trees and around 400 feet of the Rancheria Falls Trail.
The trail is the primary route to Wapama Falls, and will be closed until further notice. However, hikers can still access Wapama Falls by starting their hike from the O'Shaughnessy Dam.
Nobody was injured by the rockfall.
Some areas in Yosemite just reopened following last summer's Rim Fire.
Greg Cotta filed this report.
VIDEO: What Does Yosemite Look Like After Rim Fire
Yosemite National Park: 3 Peaks in 3 Days
Water Levels Hinder Search for Sacramento Teen who Went Over Yosemite Falls