This is an archived article and the information in the article may be outdated. Please look at the time stamp on the story to see when it was last updated.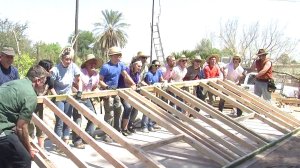 MEXICALI, Mexico-
A 300-square-foot home may sound like a nightmare, but to a man in Mexico, it is heaven on earth.
A group of teens and group leaders from Bayside Church spent their Spring Break near Mexicali. There they helped the community with donations of items, their time, and their hard work.
Siriaco lived in a house made of twigs. "You may not believe this, but I even would paint a cross on the ground hoping God would help it not to rain," he said.
Now, just feet away from that house of twigs, he was given the keys to his new house – stocked with food, furniture and clothes.
"I've never been in a house this beautiful in my life, so I am overwhelmed, filled with happiness, filled with excitement," said Siriaco, "I can't compare something this beautiful to something I would get wet in."
"It's heartwarming to see this man come from these conditions you wouldn't wish on your worst enemy to something that only he could dream about," said Sally, who helped build Siriaco's home.
Siriaco didn't ask for the granite countertops or the crown molding, just a few crosses.
"But I really want  the two crosses in front of the house so that everybody pass by will see that I'm a Christian, and how god changed my life, and how god changed my living condition," said Stefan Beldean with Bayside Church, quoting Siriaco's request.
Just 300-square-feet, heaven on earth in the eyes of some.