This is an archived article and the information in the article may be outdated. Please look at the time stamp on the story to see when it was last updated.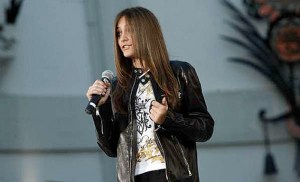 LOS ANGELES (CNN) — Paris Jackson, the 15-year-old daughter of Michael Jackson, was rushed to a hospital early Wednesday morning, sources close to the Jackson family told CNN.
"She's going to be OK," one source, who was at the hospital, said. The sources said it was unclear why she was hospitalized.
Paris posted messages to her million-plus Twitter followers late Tuesday evening:
"i wonder why tears are salty ?"
"yesterday , all my troubles seemed so far away
"now it looks as though they're here to stay"
Paris, along with her grandmother, Katherine Jackson, and her brothers, Prince and Blanket, are suing AEG Live for liability in Michael Jackson's drug overdose death.
Paris and Prince are scheduled to testify in the wrongful death trial later this month. Both teens were questioned in depositions for two days each by AEG lawyers in recent months.
By Alan Duke. The-CNN-Wire/Atlanta/+1-404-827-WIRE(9473)
™ & © 2013 Cable News Network, Inc., a Time Warner Company. All rights reserved