This is an archived article and the information in the article may be outdated. Please look at the time stamp on the story to see when it was last updated.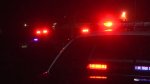 LODI-
Early Saturday morning, Lodi Police say an officer noticed a car driving without a front license plate.
As the officer made a U-turn to follow it, the driver sped up and made a quick turn into an alley on E. Locust Street, according to police.
Officers say the driver quickly parked and left the car, and walked through the alleyway. When the officer contacted the driver identified as, 23-year-old Edward Vaccarezza, of Lodi, he found a shaved key on him.
After checking the car he recognized the plates had been switched and that it was reported stolen.
Vaccarezza was arrested and booked at the jail for auto theft and possession of a stolen vehicle.
Ashley Gordon filed this report.