This is an archived article and the information in the article may be outdated. Please look at the time stamp on the story to see when it was last updated.
COOPERSTOWN, North Dakota (WDAY)-
A missing toddler, found a mile from home, kept warm by the family dog.
Carson Urness didn't want to come inside after playing; his mom started to worry around 7:30 when the three-year-old hadn't come in for dinner.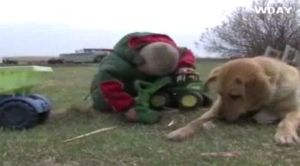 A search of the family farm turned up nothing; emergency crews were called and soon hundreds of volunteers and family friends showed up to help in the search, according to WDAY.
They searched all night, and into the wee hours of the morning.
Finally, around 2 a.m., word came that crews had found Carson. The toddler was about a mile away from home, being kept warm by the family dog who had found him before search crews.