This is an archived article and the information in the article may be outdated. Please look at the time stamp on the story to see when it was last updated.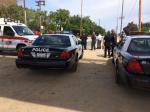 MODESTO-
Modesto Police said Thursday afternoon that a body had been found in a canal on West Briggsmore Avenue, near McHenry Avenue.
Officers said traffic was slow in the area.
The body was found by a man walking in the area shortly before 3 p.m.
Police did not say whether or not foul play was suspected, or who it was that was found in the canal.