This is an archived article and the information in the article may be outdated. Please look at the time stamp on the story to see when it was last updated.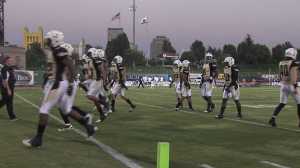 SACRAMENTO-
The Sacramento Mountain Lions will play the Las Vegas Locomotives Wednesday at 6 p.m. at Raley Field in spite of on-going financial issues.
FOX40 News has confirmed through a source close to the team, who asked to remain anonymous, that some Mountain Lions players left the team headquarters Tuesday because they have not been paid what they are due. Our source said the Mountain Lions had "roster issues" with "a limited number of players".
On Tuesday night, a FOX40 news photographer saw players and coaches entering game planning meetings at the Hilton Hotel, the team headquarters. When asked about possible player defections, a team member, described by our staffer as a coach, said it was all "just rumors".
We have been able to confirm, however, some players did leave the squad, at least temporarily. According to our source, it was only a "handfull" of players who left "to make a point", and the team expected at least some of them to rejoin the squad in time for tonight's game.
FOX40 News first reported on the team's financial troubles on Friday. Team owner Paul Pelosi, the husband of United State Congresswoman Nancy Pelosi, admitted the league's players and coaches had not yet been paid, noting what he called financial "challenges" in the young season. The Mountain Lions will play their third of eight scheduled regular season games tonight.
FOX40 News has learned players from all four teams in the United Football League met with management this week, and were given assurances they would be paid by the end of this month.