This is an archived article and the information in the article may be outdated. Please look at the time stamp on the story to see when it was last updated.
MANTECA-
The murder charge that Manteca Pastor Rob Cox faced has officially been dropped.
The outcome was something Cox and his family expected from the beginning.
"I've kinda given the police the benefit of the doubt in Vegas, and the prosecutor, they obviously made the right decision now," Cox told FOX40. "But I do have questions, along with everybody else who has questions, about why they didn't inform me there was a warrant for my arrest, why the called me a murderer, why they called me a fugitive."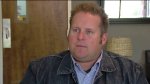 The case stems from a June 2013 altercation Cox had with 55-year-old Link Ellingson who, according to Cox, attacked him and his church group at random.
In the fight, Cox says he pushed Ellingson, who then fell back and hit his head on the pavement.
After reviewing the Grand Jury's findings, the District Attorney's office announced that Cox's case was self defense.
While Cox is relieved to not have to got to court, he says his prayers are with Ellingson's family.