This is an archived article and the information in the article may be outdated. Please look at the time stamp on the story to see when it was last updated.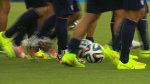 The holy month of Ramadan began Saturday night, which is forcing dozens of Muslim players still competing in the World Cup to decide whether to give up food and liquids during daylight hours, as their faith demands, or continue to train and play normally, as their sport demands.
Germany's Mesut Ozil made his decision last week, deciding against a fast.
"I am working and I am going to continue doing so. So I'm not going to do Ramadan," he said. "It's impossible for me to do it this year."
This is not the first time Ramadan has coincided with a major international competition, although it hasn't overlapped with the World Cup since 1986. Nevertheless, many players are experienced in balancing the demands of their sport and their faith, which is why French Coach Didier Deschamps is leaving it up to the players to decide what to do."It's a very sensitive and delicate subject. There's nothing for me to dictate," he told Agence France-Presse. "We respect everyone's religion. Today is not the first time we're discovering this situation. I am not in the least bit worried and everyone will adapt to the situation".
Read the rest of the story on LATimes.com