This is an archived article and the information in the article may be outdated. Please look at the time stamp on the story to see when it was last updated.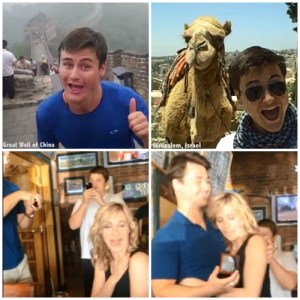 MISSOULA, Montana-
This might be the most epic marriage proposal, ever. Jack Hyer knew he wanted to marry Rebecca Strellnauer after their first date, four years ago.
In those four years, Hyer, while attending the University of Montana, had the opportunity to travel to 26 countries, which often took him away from Strellnauer.
During those trips, he planned and executed one of the best marriage proposals; shooting video of himself lip-syncing "I'm Gonna Be (500 Miles)" by The Proclaimers. Watch the full video below!
After the couple graduated last week, he showed the video at his graduation party, with Strellnauer in attendance, telling the crowd it was a "graduation slideshow".
When the video finished, he said,  "I've been on many adventures. I've traveled on elephant, on camelback, hiked to the lowest point on the earth and I've gotten to see some of the highest," he said after the video finished. "But the best adventure I've had is loving Becca."

Then proposed.
She said yes!