This is an archived article and the information in the article may be outdated. Please look at the time stamp on the story to see when it was last updated.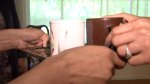 SACRAMENTO-
Stopping sex trafficking and domestic violence are the top priorities of one local organization. That's their mission because our area is a hot spot for sex trafficking. We also live in a very diverse area, where women who are abused face language and cultural barriers. But they have a place to turn to that can turn their lives around.
Jasmine says My Sister's House saved her life.
"I was totally a slave in his hands," she said. Jasmine says when they met in India, her husband talked about a life of promise in America.
When she arrived, there was no home, no car. She discovered a mistress and an abusive husband.
"Emotionally, I was shattered," she said. "Negative thoughts would overcome me and I would cry but there was nothing."
Jasmine felt isolated. English was her second language and she had no one.
"He wouldn't let me talk to people. He wouldn't let me go outside so I couldn't find somebody from India so I couldn't tell my situation to anybody," Jasmine said.
The beatings went on for years until he broke her leg. Police sent her to My Sister's House, a domestic violence shelter for the Asian Pacific Islander community.
"It's not that unusual unfortunately. I often hear their stories and wonder about the other Jasmine's out there that may not have been so lucky," said Executive Director Nilda Valmores.
For a decade, the shelter has housed women and children in crisis.   It also provides counseling and a women-to-work program.
"Our numbers in terms of crisis line has increased. And the number of women and children we serve has increased," Valmores said.
Jasmine is now separated from her husband. She's working, has her own home and is raising her young son as a single mom.
"The good thing is I am out of the domestic violence," Jasmine said. "They have saved my son's future."
Click here to buy tickets to the My Sister's House Gala, happening May 20 at the Crest Theater.