This is an archived article and the information in the article may be outdated. Please look at the time stamp on the story to see when it was last updated.
BATON ROUGE, La. (AP) — The Latest on protests in Baton Rouge arising from Tuesday's video-recorded shooting death of Alton Sterling (all times local):
12:40 a.m.
Louisiana authorities say prominent Black Lives Matter activist DeRay McKesson has been arrested during a protest in Baton Rouge.
Baton Rouge Police Department spokesman Cpl L'Jean McKneely tells The Advocate that McKesson was arrested Saturday night.
The Advocate says Mckesson was filming live video of the protest and walking alongside Airline Highway when he was arrested. It wasn't immediately clear why McKesson was arrested.
Protesters were demonstrating against the shooting death Tuesday of 37-year-old Alton Sterling.
Mckesson is one of the most recognizable faces to emerge from the Black Lives Matter movement. The former educator built a national following after he left his then-home and job in Minneapolis in August 2014 for Ferguson, Missouri, to document the rising anger over race relations after the police shooting of Michael Brown.
---
10:30 p.m.
Hundreds of people are demonstrating in the streets of Baton Rouge over the death of a black man earlier this week.
Saturday night, police could be seen detaining at least three people after confiscating some weapons earlier in the day.
Riot police at one point came out in the evening and faced off against the protesters as more than 20 police cars, blue lights flashing were on the other side of the street.
The demonstrators were angry over the death of Alton Sterling, who was shot and killed during a videotaped altercation with two white police officers in a convenience store parking lot.
---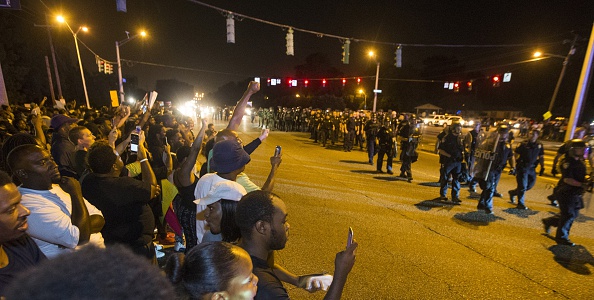 8:45 p.m.
A few hundred protesters are gathered at the Baton Rouge Police Department.
The demonstrators gathered Saturday to protest the shooting death of a black man, Alton Sterling, by two white police officers at a convenience store parking lot last week.
The protest was tense earlier as police in riot gear came out, apparently to clear the road so traffic could pass through.
A police spokesman said two firearms were confiscated and several arrests made.
Police later went back inside their headquarters and traffic reopened.
Baton Rouge resident Marie Flowers came to the protest in with her three children. She said people in the north Baton Rouge neighborhood where the shooting happened are frustrated.
Protesters waved homemade signs while drivers honked their support and some stopped by with bottles of water.
---
4:15 p.m.
Hundreds of people are gathered at a Baton Rouge convenience store for another day of protest at the site where a black man, Alton Sterling, died at the hands of two white police officers.
Some wore T-shirts that read, "I can't keep calm I have a black son" or "Black Lives Matter."
Lael Montgomery from Baton Rouge said the black community is demanding an end to police brutality. But Montgomery said he also doesn't want anyone to get hurt in the protests. He said he knows police are on edge after five officers died in a sniper attack in Dallas Thursday.
Some protesters headed for more demonstrations at the Baton Rouge Police Department, where overnight protests led to 30 arrests. Others waited for a scheduled evening march starting at City Hall.
---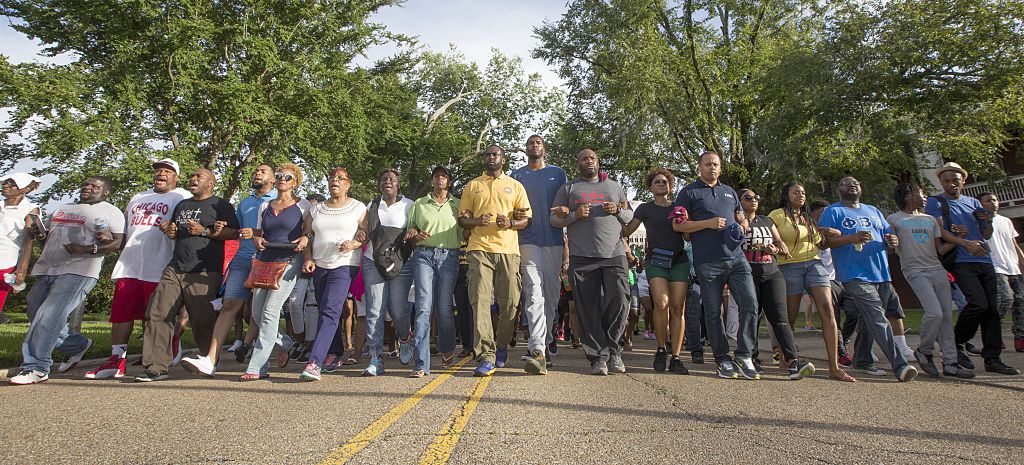 Noon
Protests were set to resume in Baton Rouge on Saturday, hours after demonstrations over a video-recorded police shooting produced tense moments resulting in 30 arrests.
Baton Rouge police have issued a statement saying they are investigating a newspaper website's video that appears to show an officer with his weapon temporarily drawn at one point early Saturday morning as angry protesters confronted police.
More demonstrations were expected Saturday afternoon.
Demonstrations in Baton Rouge following Tuesday's shooting of Alton Sterling had been largely peaceful, but there were some tense moments Friday night and early Saturday.
The East Baton Rouge Parish Sheriff's Office released a list of 30 people arrested in the demonstrations — most for obstructing a highway, but three for inciting to riot.