This is an archived article and the information in the article may be outdated. Please look at the time stamp on the story to see when it was last updated.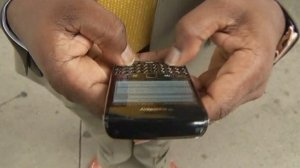 NEW YORK (CNNMoney) — The future of once-mighty Research in Motion rests on its new Blackberry 10 operating system — a fact RIM played up on Wednesday by changing its name to BlackBerry.
The move came as the company kicked off a series of around-the-world events unveiling BlackBerry 10, along with the first two devices to run on the new platform.
BlackBerry 10 is meant to be the linchpin of RIM's turnaround, and it's been a long time coming: The software was originally slated for release in early 2012. That was pushed to late 2012, and pushed again to the first quarter of 2013.
It was damning news for RIM, whose market share in the U.S. has plummeted. Now, RIM has to prove BlackBerry 10 was worth the long wait.
Before unveiling the software on Wednesday, CEO Thorsten Heins talked about the company's major changes over the past year.
"We have redefined ourselves inside and out," Heins said. "RIM becomes BlackBerry! It is one brand, it is one promise."
Heins discussed the company's struggles, referring to them as a "journey of transformation," after antics that included a man cutting off his ponytail in the middle of the audience."CrackBerry Kevin," an avid fan, had pledged not to cut his hair until BlackBerry 10 launched.
The BB10 unveiling kicked off with an announcement of the first two new devices: the Z10, which features an all-touch keyboard, and the Q10, with a classic BlackBerry tactile keyboard. Pricing and release dates were not immediately announced.
The company has already said BlackBerry 10 will run on a smaller number of devices and include essential smartphone features like a much-improved camera, a modern Web browser and social-networking integration.
Heins started with the consumer-friendly features. The BlackBerry Hub is a catchall for communications like email, texts, and Facebook. BlackBerry Flow lets users toggle between apps by swiping, rather than using the home button.
But RIM is still focusing on its bread and butter: the workplace. The software lets users access e-mail with one swipe from any app, and shift between personal and corporate modes.
Executives pushed hard Wednesday on that work/life divide, the foundation for a feature called BlackBerry Balance. It lets users keep their corporate and personal information completely separate. Users can toggle between the two modes, but they're not able to copy a message, for example, from the corporate mode and paste it into the personal.
Balance is clearly a bid to make corporate folks happy. A major part of BlackBerry's decline comes from its losses in the enterprise market. Companies have been increasingly willing to let employees work on phones they choose — a phenomenon known as Bring Your Own Device — and they're overwhelmingly selecting hardware from rivals.
Meanwhile, BlackBerry competitors like Apple, Google and Microsoft have worked hard to improve their security and e-mail delivery capabilities. As a result, corporate IT departments have opened their once-restrictive gates to non-BlackBerry devices.
The-CNN-Wire/Atlanta/+1-404-827-WIRE(9473)
™ & © 2013 Cable News Network, Inc., a Time Warner Company. All rights reserved.