This is an archived article and the information in the article may be outdated. Please look at the time stamp on the story to see when it was last updated.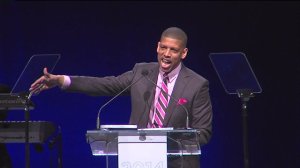 (CNN) — Longtime NBA team owner Donald Sterling is being roundly criticized for remarks he allegedly made regarding African-Americans that some are calling "repugnant" and "reprehensible."
Sterling, who has owned the Los Angeles Clippers for nearly three decades, made the comments in a 10-minute argument he had with girlfriend V. Stiviano on April 9, according to TMZ, which posted the audio Saturday.
Multiple calls to the Clippers organization Saturday were not returned. CNN cannot independently verify the authenticity of the audio recording.
TMZ does not say who made the recording or how the celebrity-centric website obtained it.
Attempts to reach Stiviano on Saturday also were unsuccessful.
If authentic, the remarks seem to reflect Sterling's embarrassment and frustration with Stiviano over her associating with African-Americans at Clippers games and for posting such pictures on her Instagram account.
Stiviano is part African-American, according to the recording.
The man alleged to be Sterling takes particular exception to a photo she posted to Instagram with NBA icon Earvin "Magic" Johnson.
"In your lousy f**ing Instagrams, you don't have to have yourself with — walking with black people," the man says.
"If it's white people, it's OK?" she responds. "If it was Larry Bird, would it make a difference?"
Bird, the longtime Boston Celtics star, was Johnson's NBA rival.
"I've known [Magic] well and he should be admired …. I'm just saying that it's too bad you can't admire him privately," the man on the recording says. "Admire him, bring him here, feed him, f**k him, but don't put [Magic] on an Instagram for the world to have to see so they have to call me. And don't bring him to my games."
Johnson responded Saturday afternoon via his verified Twitter account.
"I feel sorry for my friends Coach Doc Rivers and Chris Paul that they have to work for a man that feels that way about African Americans" read a tweet from @MagicJohnson. "I will never go to a Clippers game again as long as Donald Sterling is the owner," read another.
Paul issued a statement, not as the star of Sterling's team, but in his role as president of the player's union. "On behalf of the National Basketball Players Association, this is a very serious issue which we will address aggressively," he said.
The union's response will be led by NBA player-turned-mayor of Sacramento Kevin Johnson. "The reported comments made by Clippers owner Donald Sterling are reprehensible and unacceptable," he said in a statement.
The NBA weighed in as well.
"We are in the process of conducting a full investigation into the audio recording obtained by TMZ," Mike Bass, executive VP for communications, told CNN. "The remarks heard on the recording are disturbing and offensive, but at this time we have no further information."
On Saturday, two high-profile NBA alums addressed the controversy during the Hawks versus Pacers halftime program on TNT, which like CNN, is a division of Time Warner.
"Should this guy continue to be an owner?" asked Shaquille O'Neal, who also called the comments "repugnant."
"We cannot have an NBA owner discriminating against the league," said Charles Barkley. "We're a black league."
The Clippers are set to play the Golden State Warriors in Oakland on Sunday in the fourth game in their best-of-seven playoff series.
By Kevin Conlon
The-CNN-Wire
™ & © 2014 Cable News Network, Inc., a Time Warner Company. All rights reserved.