This is an archived article and the information in the article may be outdated. Please look at the time stamp on the story to see when it was last updated.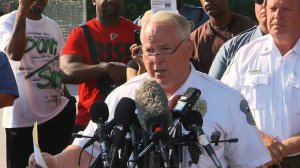 FERGUSON, Missouri (CNN)-
The Ferguson police officer who shot Michael Brown didn't stop him because he was suspected in a reported convenience-store robbery, but because he was "walking down the middle of the street blocking traffic," the city's police chief said Friday.
Ferguson Police Chief Thomas Jackson — hours after documents came out labeling the 18-year-old Brown as the "primary suspect" in the store theft — told reporters that the "robbery does not relate to the initial contact between the officer and Michael Brown."
So why did Ferguson police decide to release surveillance video of the convenience-store incident on Friday — the same day that they named, six days after the shooting, the white police officer who fatally shot the African-American teenager — if the two situations are not related?
Jackson said he distributed the store videotape "because the press asked for it," noting he couldn't withhold it indefinitely.
The chief added "we needed to release that at the same time we needed to release the name of the officer involved in the shooting," though he didn't elaborate on why. This week, as days and nights of demonstrations passed without the officer being identified, pressure mounted on authorities, as did allegations from some of a coverup.
The flurry of information Friday added more intrigue to a case that has spurred protests in Ferguson by many angry at the shooting of Brown, and what they decry as a heavy-handed response by police afterward.
The decision to come out with both the police officer's identity and information about the robbery — whether or not they had anything to do with each other — managed to further upset many in the St. Louis suburb.
Brown's family "did not have any of this information" — including the store surveillance video — until it came out Friday, family lawyer Benjamin Crump told CNN's Jake Tapper. He accused police on releasing information "in this devious manner, in a piecemeal fashion" in an attempt to "assassinate (Michael Brown's) character and try to justify the actions."
"It's so irrelevant, the two have nothing to do with one another," Crump said. "… Where's the report about the murder?"
The man heading security in Ferguson after the recent unrest — Missouri State Highway Patrol Capt. Ron Johnson — stressed that the robbery and shooting of Brown "are separate issues" that should not be mixed up together.
In video by CNN affiliate KSDK, Johnson subtly criticized the Ferguson police chief's Friday morning press conference, saying authorities "could have said some things a little bit different … and maybe given out information in a different way."
He emphasized that authorities have an obligation to be upfront, not to say "some things and now everybody says, 'what does that mean?'"
"I think if we're going to give answers, we need to not give hints," Johnson said. "We need to say it."
Chief: Police officer involved in shooting 'a gentleman'
Police identified the officer who shot Michael Brown as 28-year-old Darren Wilson — a six-year police veteran, including four years with the Ferguson force. Authorities had refused to name him, citing threats to his safety.
The fact they have now done so satisfies a major demand of protesters. But many remain perturbed that additional details have not come out about Brown's shooting.
What the police chief did do on Friday was express "every confidence" in Wilson, who had one side of his face swollen in his encounter with Brown, according to authorities.
"He (is) a gentleman … a quiet officer," Jackson said. The entire situation is "devastating, it's absolutely devastating" to Wilson.
Much more information was provided about the reported convenience store robbery.
That includes the surveillance video, which shows a large African-American man pushing aside a smaller man who seemingly tries to stop him, then leaving the store. Crump said the larger man "appears to be" Michael Brown.
Newly released police documents claim the teenager roughly handled a clerk trying to stop him before walking out of the store with the box of Swisher Sweets.
The cost for the box of cigars, according to the documents: $48.99.
More protests expected
The entire story has drawn national attention — especially for what happened in the days after the shooting, with authorities accusing some protesters of violence and looting while others ripped what they called an over-the-top, militarized police response.
"There is never an excuse for violence against police or for those who would use this tragedy as a cover for vandalism or looting," President Barack Obama said Thursday. "There is also no excuse for police to use excessive force against peaceful protests or to throw protesters in jail for lawfully exercising their First Amendment rights."
Things were calmer Thursday on the streets of Ferguson — which also happened to be the same day that Johnson's state highway patrol took over security — than they had been earlier in the week when police used tear gas, rubber bullets and armored equipment to push back demonstrators. Authorities said they responded to some protestors throwing rockets and Molotov cocktails.
But the new information out Friday seems unlikely to quell protests in the Missouri city and elsewhere.
A key complaint of protesters has been that witnesses say the officer shot Brown as the teenager stood with his hands in the air. Police have said the shooting occurred during a struggle for the officer's gun.
On Twitter, many community members and activists expressed disappointment and outrage.
"How can they not release info on the shooting but link #MikeBrown to robbery. Shame on them," @NafisMWhite tweeted.
Another said that Brown being a suspect should not have led to the use of deadly force.
"When police approached Mike Brown, he was still a suspect, he wasn't guilty of anything, so it shouldn't have come to a shooting," one man told CNN's Don Lemon on Thursday.
Yet there were also some who said the robbery is not necessarily irrelevant to what happened next.
"A robbery doesn't justify shooting Mike Brown, but it definitely changes your perspective on his mindset at the time of police encounter," read one post from @OneTermTooMany.
Fatal moments
Witnesses have told CNN that the officer and Brown did tussle at the cruiser window, but it didn't look like Brown was trying to get at the officer.
"It looked as if Michael was pushing off and the cop was trying to pull him in," Tiffany Mitchell told CNN on Wednesday night.
Neither Mitchell nor coworker Piaget Crenshaw say they saw Brown enter the vehicle.
Instead, a shot went off, then the teen broke free, and the officer got out of the vehicle in pursuit, the women said.
"I saw the police chase him … down the street and shoot him down," Crenshaw said. Brown ran about 20 feet.
Another man, Dorian Johnson, said that he was with Brown at the time of the shooting and that police shot Brown without provocation.
"We wasn't committing any crime, bringing no harm to nobody, but my friend was murdered in cold blood," he told CNN affiliate KMOV.
The documents released Friday name Johnson as the second suspect in the convenience store robbery, but Jackson said Friday that he will not face any charges.
"We have determined that he committed no crime," Jackson said.
The-CNN-Wire
™ & © 2014 Cable News Network, Inc., a Time Warner Company. All rights reserved.