This is an archived article and the information in the article may be outdated. Please look at the time stamp on the story to see when it was last updated.
SHENANDOAH, Pennsylvania (WNEP)-
The body of a 8-year-old boy was found on the third floor of a home, after the mother reported a weird smell.
Kimberly Tutko says she didn't realize her son was dead until she smelled something festering in their Pennsylvania home Friday night.
Her husband, Jarrod Tutko, Sr., told her their son was dead, and had been dead for days.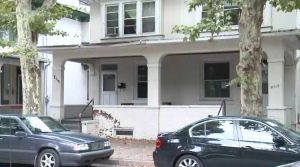 Tutko's cousin told WNEP the couple had several kids with special needs. While Kimberly focused on her daughter, Jarrod Sr. was the primary caregiver for their 8-year-old son, Jarrod Tutko, Jr. The young boy had severe mental disabilities.
Jarrod Tutko, Sr. is now in jail facing several charges, including child endangerment, concealing the death of a child and abusing a corpse.
The couple's remaining five children were removed from the home.
An autopsy is planned for later this week, it is not clear how the boy died.