This is an archived article and the information in the article may be outdated. Please look at the time stamp on the story to see when it was last updated.
[protected-iframe id="3cedf2fa5d48030cd07ea395378605ee-37181424-39033240″ info="http://embed.newsinc.com/Single/iframe.html?WID=2&VID=25706579&freewheel=91055&sitesection=ktxl&height=325&width=580″ width="580″ height="325″ scrolling="no"]
LONGMONT, Colorado –
An AMBER Alert suspect carjacked three different drivers during a dramatic high-speed chase.
Wednesday morning, officers in Colorado issued an AMBER Alert after a man reportedly stole a red SUV with a 4-year-old boy inside. The SUV was parked at a gas station, the boy's mother had just gone inside to pay when the man took the vehicle.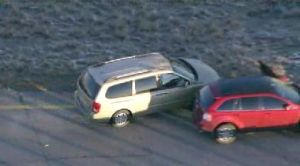 After a chase ensued along area highways, the suspect got a gold van to stop. He then pulled the driver out of the van, got inside, and took off driving again.
The boy inside the red SUV was rescued, and is doing ok.
The man, now driving a gold van, kept speeding away from chasing officers. News helicopters watched as he crashed in to, and then carjacked another driver.
In this third car, the man didn't make it very far before crashing into another car at an intersection. He tried to run away, but officers were able to arrest him.
Officials are reporting a Colorado trooper was injured during the chase, no word on what happened or how severe the injuries are.
Read more about the chase on KDVR.com