This is an archived article and the information in the article may be outdated. Please look at the time stamp on the story to see when it was last updated.
FERGUSON, Missouri (CNN) — Missouri Gov. Jay Nixon on Saturday declared a state of emergency and implemented a midnight to 5 a.m. curfew in Ferguson, where the police shooting of an unarmed black teenager sparked a week of protests and sporadic looting.
"I'm committed to making sure the forces of peace and justice prevail," Nixon said at a community meeting. "If we're going to achieve justice we first must have and maintain peace."
But the meeting at a local church at times was tumultuous.
People repeatedly interrupted Nixon and Missouri State Highway Patrol Capt. Ron Johnson, shouting, "You need to charge the police with murder!" and "We want justice!"
Johnson, in charge of security for the town, said the investigation is speeding up. He said some 40 FBI agents arrived in Ferguson on Saturday morning, going door-to-door to investigate the fatal shooting of 18-year-old Michael Brown by officer Darren Wilson a week ago.
Johnson praised local citizens who tried to stop the looting of several businesses early Saturday and said law enforcement would not be heavy-handed in enforcing the curfew.
"We won't enforce it with trucks, we won't enforce it with tear gas," he said.
The fragile peace shattered in Ferguson earlier in the day when looters again targeted neighborhood businesses while law enforcement in riot gear largely looked on without intervening.
Some protesters tried to stop the looting, at times standing in front of one convenience store and preventing others from doing more damage. Police, criticized days earlier for being too aggressive with protesters, now drew the ire of merchants who told CNN they weren't doing enough.
"You still have a job to do now, and now you're not doing your job," Tanya Littleton said of police after thieves broke into her beauty supply shop in the St. Louis suburb and made off with bags of hair extensions worth hundreds of dollars.
The city was more at peace Saturday afternoon as protesters marked the week that's passed after the white police officer shot and killed Brown.
At noon Saturday — the hour that police say Wilson shot Brown a week earlier — protesters outside the Ferguson police station silently raised their arms into the air, mimicking Brown's purported actions right before he died.
Days of angry protests followed witnesses' accounts that Brown did nothing to provoke the shooting, and that at one point he raised his hands in surrender.
Protests continued throughout the day Saturday.
Civil rights leader Jesse Jackson joined loud but peaceful crowds that marched in the street carrying signs saying "Mike Brown is our son" and "The whole world is watching Ferguson." They chanted "Hands up, don't shoot" and "Hey hey, ho ho, killer cops have got to go."
At the community meeting, the governor said that a "very few" decided to act in a way that had the "intent of committing crimes and endangering citizens. That is unacceptable."
He praised "the courage and resolve of peaceful protesters who stood up against violent instigators" overnight in Ferguson.
Looting earlier in the day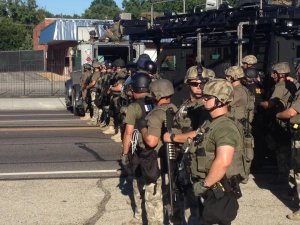 The looting began at the Ferguson Market and Liquor store, which has become part of the case. Minutes before Brown was shot last week, police say, a man fitting his description allegedly stole cigars and roughed up a store clerk as surveillance cameras recorded.
Ferguson police released surveillance video of that robbery on Friday, but then emphasized that Wilson stopped Brown not because of the theft, but because Brown and a friend were "walking down the middle of the street blocking traffic." Police say Wilson shot Brown after the teen fought with the officer in his patrol vehicle and groped for his gun.
Release of the video on Friday angered some, who say police were using it to distract from Brown's killing and make him look bad.
As protesters took to the streets early Saturday, more than two dozen people blocked off the convenience store with cars. Police with riot gear, tactical rifles and armored vehicles were nearby, commanding them through loudspeakers to free it up.
Instead, bottles flew, mayhem erupted, and looters ransacked the store, which the owner had boarded up. It was the first of at least three stores raided.
Looters ran out of shops with boxes stacked in their arms up to their chins. Behind them lay overturned shelves, spilled goods and wrecked displays. All the while, police stayed back by their armored vehicles and observed but did not stop them.
Three Molotov cocktails pummeled the roof of a Domino's Pizza, burning a hole, before firefighters put the flames out.
About an hour later, about a dozen people lined up to block Ferguson Market and Liquor's entrance, saying they were keeping looters out. But before sunrise, looters returned there for a second round.
Littleton's Feel Beauty Supply also was raided. The beauty store's floor was littered with broken glass and merchandise, video from CNN affiliate KTVI showed.
Looters took off with hair extensions worth at least $200 a bag, Littleton told CNN.
"We're shut down for a while. It's not safe, and the police are doing nothing about it," she told KTVI.
Also targeted was Sam's Meat Market and Liquor. After hearing that people grabbed chicken, bacon and spirits from their store, the owners arrived with guns and stood outside, warding off any further raids.
Jay Kanzler, lawyer for Ferguson Market and Liquor, said police did nothing to stop the looting in town.
"Don't know why the … police didn't do anything. They were told to stand down and I don't know why," Kanzler said.
Nixon had put the Missouri State Highway Patrol in charge of protest security in Ferguson after days of sometimes violent clashes between police and protesters. CNN's call to the patrol Saturday morning wasn't immediately returned.
Prior to the bedlam, protests had been peaceful late Friday, continuing the mood that taken hold the previous night, when quiet had returned to the Missouri town after consecutive nights of violence between protesters and police.
The new security arrangements led by the highway patrol's Johnson seemed to have calmed tensions that day. He had bonded with the community, becoming the figurehead of softer crowd policing and unblemished protests.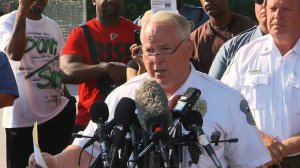 Feds argued against video's release, source says
The release of the store-theft video by Ferguson police occurred over the objections of federal authorities, a law enforcement official told CNN on Saturday.
Ferguson police had wanted to release the video Thursday but held off when the U.S. Justice Department asked them not to, arguing that doing so would increase tensions in the community, the source said.
But Ferguson Police Chief Thomas Jackson released it Friday, announcing for the first time that Brown was suspected of stealing cigars from Ferguson Market and Liquor shortly before noon August 9, minutes before Wilson encountered and shot him.
Jackson made the announcement as he named Wilson as the shooter. The dual revelations came after Brown's relatives and protesters demanded for nearly a week to learn the shooting officer's name.
Jackson said he released the theft information because the "press asked for it," noting he couldn't hold it indefinitely.
The man in the video "appears to be" Brown, said his family's lawyer Benjamin Crump. But the family wasn't informed of the robbery or store surveillance video ahead of time, he said.
And it's immaterial, said Eric Davis, who is related to Brown.
"It's a diversion, and it's an attempt to smear Michael's character," he said. "It (should be) more about what happened on Canfield Drive, where Michael was executed."
Johnson also was sour on the information release. The robbery and Brown's shooting "are separate issues," he said.
"I told (Chief Jackson) I think both of those being released today was not needed and was not the way that we needed to go," he said.
The alleged theft
Documents fingered the teen as the "primary suspect," who walked off with a box of cigars valued at $48.99.
Brown's friend Dorian Johnson said he was with Brown at the time of the shooting and that Wilson shot Brown without provocation.
"We wasn't committing any crime, bringing no harm to nobody, but my friend was murdered in cold blood," he told CNN affiliate KMOV.
Two witnesses say Wilson, 28, shot Brown multiple times, as he tried to break away from the officer. The same two witnesses have contradicted the claim by police that Brown had fought with Wilson.
No one has disputed witness accounts that Brown was unarmed when he died.
One side of Wilson's face was left swollen after the confrontation, police said.
Police have said that evidence and testimony in the shooting will be presented to a grand jury, which will decide whether Wilson should be tried.
By Ralph Ellis, Jason Hanna and Shimon Prokupecz
CNN's Ralph Ellis and Jason Hanna reported and wrote from Atlanta, and Shimon Prokupecz and Steve Kastenbaum reported from Ferguson. CNN's Evan Perez, Joe Sutton, Ben Brumfield and Greg Botelho contributed to this report.
The-CNN-Wire
™ & © 2014 Cable News Network, Inc., a Time Warner Company. All rights reserved.