This is an archived article and the information in the article may be outdated. Please look at the time stamp on the story to see when it was last updated.
MONTANA-
A man driving with thousands of bees in his car was pulled over by Montana Highway Patrol last month.
Montana Highway Patrol dispatch said they received a call of a car driving all over the road on May 22. The caller said the inside of the car had bees all over the windows and that bees were flying around inside the car.
Troopers located the car and pulled it over.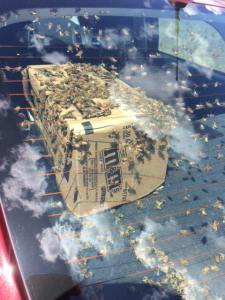 The driver was removed from the vehicle and said that the bees were harmless "Russian Honeybees."
The car contained five hives with thousands of bees.
The state beekeeper was contacted and troopers learned that although a very unsafe way to transport bees, the driver did not need any permits to transport the bees through the state.
The driver was issued a citation for careless driving and was allowed to continue on his way.