This is an archived article and the information in the article may be outdated. Please look at the time stamp on the story to see when it was last updated.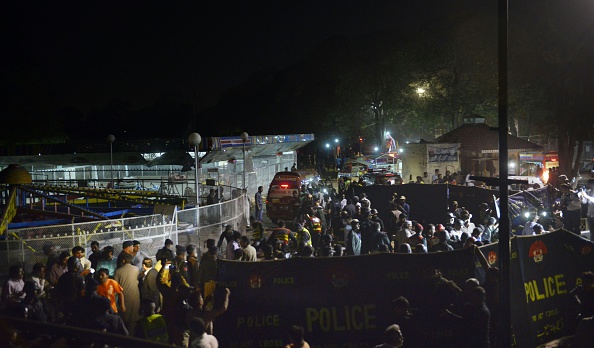 ISLAMABAD, Pakistan —
A splinter group of the Pakistani Taliban has claimed responsibility for a deadly attack on Easter Sunday, saying it intentionally targeted Christians.
The suicide blast in the eastern Pakistan city of Lahore killed at least 67 people, a local government spokesman told CNN.
More than 300 others were injured, police official Haider Ashraf said.
The explosion ripped through the heart of Lahore on Sunday evening, at a time when many families were at the city's Gulshan Iqbal Park to celebrate the Easter holiday. Many women and children were among the victims.
Ehsanullah Ehsan, a spokesman for the splinter group of the Pakistani Taliban known as Jamat-ul-Ahrar vowed such attacks would continue.
Pakistani Prime Minister Muhammad Nawaz Sharif strongly condemned the blast. Sharif was born in Lahore and enjoys strong support there.
Blasphemy law protests erupt
Protests erupted again Sunday, almost a month after a former bodyguard who assassinated a moderate politician was executed. Mumtaz Qadri, was hanged in a Rawalpindi prison February 29, five years after being found guilty of shooting and killing Punjab Gov. Salman Taseer.
The governor had spoken out against the blasphemy law that makes insulting Islam a crime punishable by death.
As many as 10,000 demonstrators gathered in the capital, Islamabad, Friday, praising Qadri and demanding changes to Pakistan's laws, including the adoption of Sharia law, according to local media reports.
International condemnation
Indian Prime Minister Narendra Modi, who has worked to thaw the icy relations between the two neighbors, called Sharif on Sunday to express his grief over the bombing.
The Indian leader expressed solidarity with Pakistan, the Pakistani state-run news agency reported.
"Modi said coward terrorists had targeted females and kids which was highly condemnable and regrettable," according to the state-run agency, the Associated Press of Pakistan.
The United States and Australian governments also condemned the attack.
"This cowardly act in what has long been a scenic and placid park has killed dozens of innocent civilians and left scores injured," National Security Council spokesman Ned Price said in a statement.
Australian Foreign Minister Julie Bishop echoed the sentiment.
"As Christians worldwide celebrate Easter, a shocking terrorist attack in Lahore, Pakistan, reminds us that terrorism is a global scourge," she said Monday.
"The Australian Government condemns this horrific act that has killed dozens of civilians, including children, and expresses our condolences to the people of Pakistan and its government at this time."
History of violence
In March last year, suicide bombers attacked a Christian community, also in Lahore, setting off two blasts that killed at least 14 people and wounded dozens more, officials said.
The Pakistani Taliban claimed responsibility for that attack too and warned of more to come.
The explosions, which struck the Nishtar Colony area in the city of Lahore, wounded at least 78 people, Dr. Muhammed Saeed Sohbin, medical superintendent at Lahore General Hospital, said then.
In 2013, suicide bombers struck a church in the northwestern city of Peshawar, killing more than 80 people.