This is an archived article and the information in the article may be outdated. Please look at the time stamp on the story to see when it was last updated.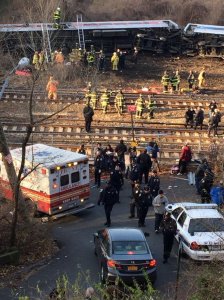 NEW YORK (CNN)-
A passenger train derailment Sunday morning killed at least four people and injured 63 others, officials said.
Firefighters and emergency rescuers swarmed the scene near Spuyten Duyvil station in the Bronx, where at least two train cars had flipped on their sides. One car was just feet away from the Harlem River.
At least two of the dead appeared to have been ejected from the Metro-North train, a source familiar with the investigation and rescue told CNN.
Police divers were in the water hours after the crash searching for survivors, CNN affiliate WABC reported. Authorities believe all the passengers have been accounted for, New York Gov. Andrew Cuomo told reporters.
It was unclear how fast the train was traveling and how many passengers were on board.
"In terms of causes, we don't know exactly what happened," Cuomo said.
Federal investigators from the National Transportation Safety Board were headed to the scene, he said.
The train came off the tracks just as it was coming around a sharp curve shortly after 7 a.m., fire officials told CNN affiliate WCBS.
Of eight train cars, seven were off the tracks.
The train operator — who is among the injured — told investigators he applied brakes to the train, but it didn't slow down, a law enforcement official on the scene and familiar with the investigation said.
Passenger Frank Tatulli told WABC he thought the train was traveling "a lot faster" than usual.
He escaped a derailed car on his own and suffered head and neck injuries, he said. Other passengers were still on the train, he told WABC.
The derailment occurred near where a freight train derailed in July, WCBS reported. No one was injured in that accident.
Federal authorities are still investigating a collision that occurred on the same line in May, when two passenger trains crashed during rush hour in Connecticut.
Service was suspended Sunday on part of the Hudson Line, Metro-North said on Twitter.
The-CNN-Wire
™ & © 2013 Cable News Network, Inc., a Time Warner Company. All rights reserved.